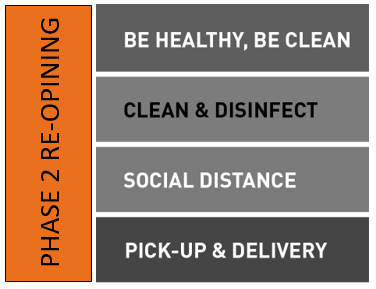 Spitzie's H-D | Albany, NY | Phase 2 Reopening | June 2020
In Phase 2 of the State of New York's reopening plan, Spitzie's Harley Davidson is continuing to offer free delivery, curbside pickup, services, and test rides, as well as limited "appointment only" shopping. Regarding walk-in business, as per the states guidelines, only 50% of the retail store's maximum permitted occupancy is permissible, and this count includes both Staff and Employees. Spitzie's will be monitoring this and will require overflow business to be conducted outdoors; clients with appointments will receive priority.
Spitzie's has installed visual social distancing markers to encourage customers to remain 6 feet apart (e.g., lines to make payments, and directional arrows that customers must follow while viewing our inventory in the showroom.
Additionally, we require face coverings for all workers and customers in-store. Our fitting rooms remain closed, and customers may not try on or return motor clothes.
We have instituted robust hygiene protocols, disinfecting shared equipment, such as cash registers, counter tops, restrooms, door handles, and vehicle inventory. We are encouraging frequent hand washing and the use of alcohol-based hand sanitizers.
Spitzie's is following all recommended practices mandated by the State of New York and the City of Albany, NY, to ensure both our customers and employees remain safe and healthy.